I know you're familiar with the primitive style of quilts. But are you familiar with "primitive camping"? Primitive campgrounds consist of small campsites with fire rings, a vault toilet, and occasionally a hand-pumped well.

We are based in West Virginia, which is known for rugged outdoor adventures and scenic natural beauty. It has lots of primitive campsites.

My husband (Dave) and I like to camp at these primitive places, but with the luxury of sleeping in a teardrop camper. It is not much more than a bed on wheels in a hard shell with a hatchback kitchenette.

As you can see, I've taken a few small steps to decorate with window shades and little light covers using a retro-styled turquoise fabric.

I'm now working on a quilt made up of bear paw blocks, because, you know…bears! It consists of 17--12 1/2" turquoise squares and 18--12 1/2" Bear Paw blocks (unfinished). If you're interested in making bear paw blocks this size, cut 1--8 1/2" square of brown, 1--4 1/2" turquoise square, 2--5 3/8" turquoise squares and 2--5 3/8" brown squares. Using the 5 3/8" brown and turquoise squares, make 4 HST, and trim down to 4 1/2" squares. Assemble the bear paw.
I'm in the process of stitching the blocks into rows. The border and binding will probably be brown. The backing will be a hodge-podge piecing of the turquoise and brown fabrics. This will be my second 100% by hand quilt...I don't have a sewing room and I find handwork to be calming and enjoyable.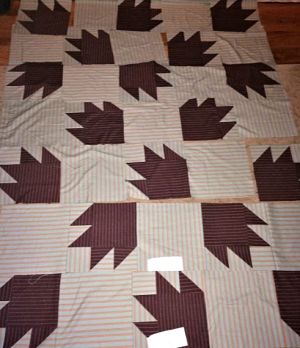 I need to hurry because camping weather is right around the corner! I'll share pictures when it's finished and we're out camping.
If you'd like more detail on how to make this quilt, send us a message.