Products, Kits, and Patterns...
One-stop shopping with PQP Partners!
CLICK EACH IMAGE to ORDER!

Old Glory Kit $150

by: Meetinghouse Hill Designs
45 1/2" x 11 1/2". A patchwork of wools stitched together in patriotic colors, just in time to celebrate! Kit includes all the hand-dyed and mill-dyed wools, hand-dyed threads, freezer paper, pattern, and cotton backing. Also available as just a pattern OR a Rug Hooking Canvas as well!

Arabesque Kit $115

by: Granny's Legacy Patterns
29" ROUND MAT
This gorgeous paisley motif is worked around the mat edge four complete times to create the lovely ornamentation.

Options for pattern-only, threads, etc. are also available.

SAVE $18 on a 1-Year Subscription to Rug Hooking Magazine: $19.95 USD
Discover stunning inspiration for primitive and fine cut rugs, expert tips and dyeing techniques, and a FREE pull-out pattern in every issue!

Flower Patch Bunnies Kit $24.50

by The Woolen Needle
16" round wool applique mat (pattern sold separately). Also available as pattern-only!


Blowing in the Breeze Wool Collection $54.95

by: WoolyLady Dye & Design Studio


This collection includes seven colors of hand dyed wool. The background color is Opal Sky, and you will receive a 12" x 16" piece of this color. The other sunny six pieces, Grass Green, Bittersweet Chocolate, Watermelon Sunrise, Mango & Melon, Gold Finch and Pink Ice will measure 6" x 16" each. This Limited Edition of hand dyed wool comes with the FREE pattern for Blowing in the Breeze.

Twiddle 'n' Tweet Dolls Kit $38

by: Sparkles n Spirit
Set of 2 dolls..makes 1 Twiddle and 1 Tweet doll in farmhouse red & florals. All fabrics included to make the set of 2 dolls. Also includes Pattern, Woodkit and Accessories (Apak). (a few additional supplies needed)

Dearest Boy Pattern Book $36

by: Dearest Boy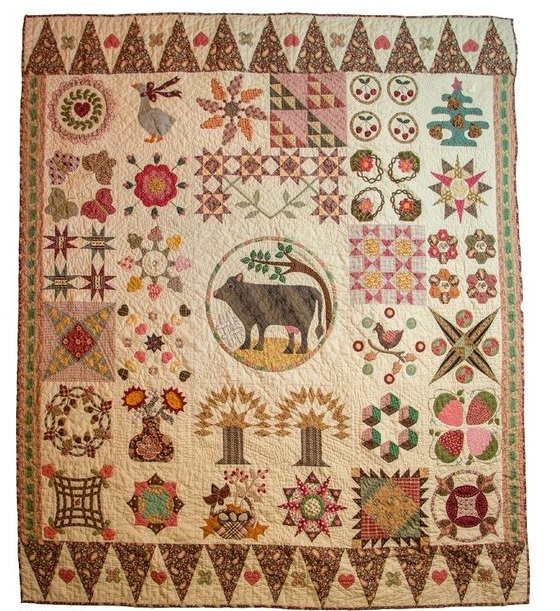 The quilt [66" x 72"] pattern book contains 32 ten-inch blocks and the twenty-inch center "cow" block.

Harriet's Pioneer Braid Table Runner Kit $32.95

by: Yellow Creek Quilt Designs

Finished size: 16 1/2″ X 41″ . This project looks difficult, but is actually very easy! No 'Y' seams even though it looks like there might be. Kit contains fabrics for the top and binding.

USA Flag Wool/Wood Kit $49.99

by Kathy Flowers @ Pieces of Dreams
Your kit includes wool and pattern to complete the stitchery, and the wood board. Our wood is hand selected from the mill, dried, planed, and finished to accent any wool project! The wool flag measures 5" x 5 3/4" and the U.S. board measures 13 3/4" x 11 1/4".


Sweet & Simple Stitchery
by: Woolen Willow Designs
Sweet & Simple Stitchery is a set of 10 downloadable e-patterns used in Woolen Willow's latest Block of the Week program. Each individual pattern is $6, or you can get all 10 for only $50.

Save
Save
Save
Save
Save
Save
Save
Save
Save
Save
Save
Save
Save
Save
Save
Save
Save
Save
Save
Save
Save
Save
Save
Save
Save
Save
Save
Save
Save
Save
Save
Save
Save
Save
Save
Save
Save
Save
Save
Save
Save
Save
Save
Save
Save
Save
Save
Save
Save
Save
Save
Save
Save
Save
Save
Save
Save
Save
Save
Save
Save
ave
Save
Save
Save
Save
Save
Save
Save
Save
Save
Save
Save
Save
Save
Save
Save
Save
Save
Save
Save
Save
Save
Save
Save
Save
Save
Save
Save
Save
Save
Save
Save
Save
Save
Save
Save
Save
Save
Save
Save
Save
Save
Save
Save
Save
Save
Save
Save
Save
Save
Save
Save
Save
Save
Save
Save
Save
Save
Save
Save
Save
Save
Save
Save
Save
Save
Save
Save
Save
Save
Save
Save
Save
Save
Save
Save
Save
Save
Save
Save
Save
Save
Save
Save
Save
Save
Save
Save
Save
Save
Save
Save
Save
Save
Save
Save
Save
Save
Save
Save
Save
Save
Save
Save
Save
Save
Save
Save
Save
Save
Save
Save
Save
Save
Save
Save
Save
Save
Save
Save
Save
Save
Save
Save
Save
Save
Save
Save
Save
Save
Save
Save
Save
Save
Save
Save
Save
Save
Save
Save
Save
Save
Save
Save
Save
Save
Save
Save
Save
Save
Save
Save
Save
Save
Save
Save
Save
Save
Save
Save
Save
Save
Save
Save
Save
Save
Save
Save
Save
Save