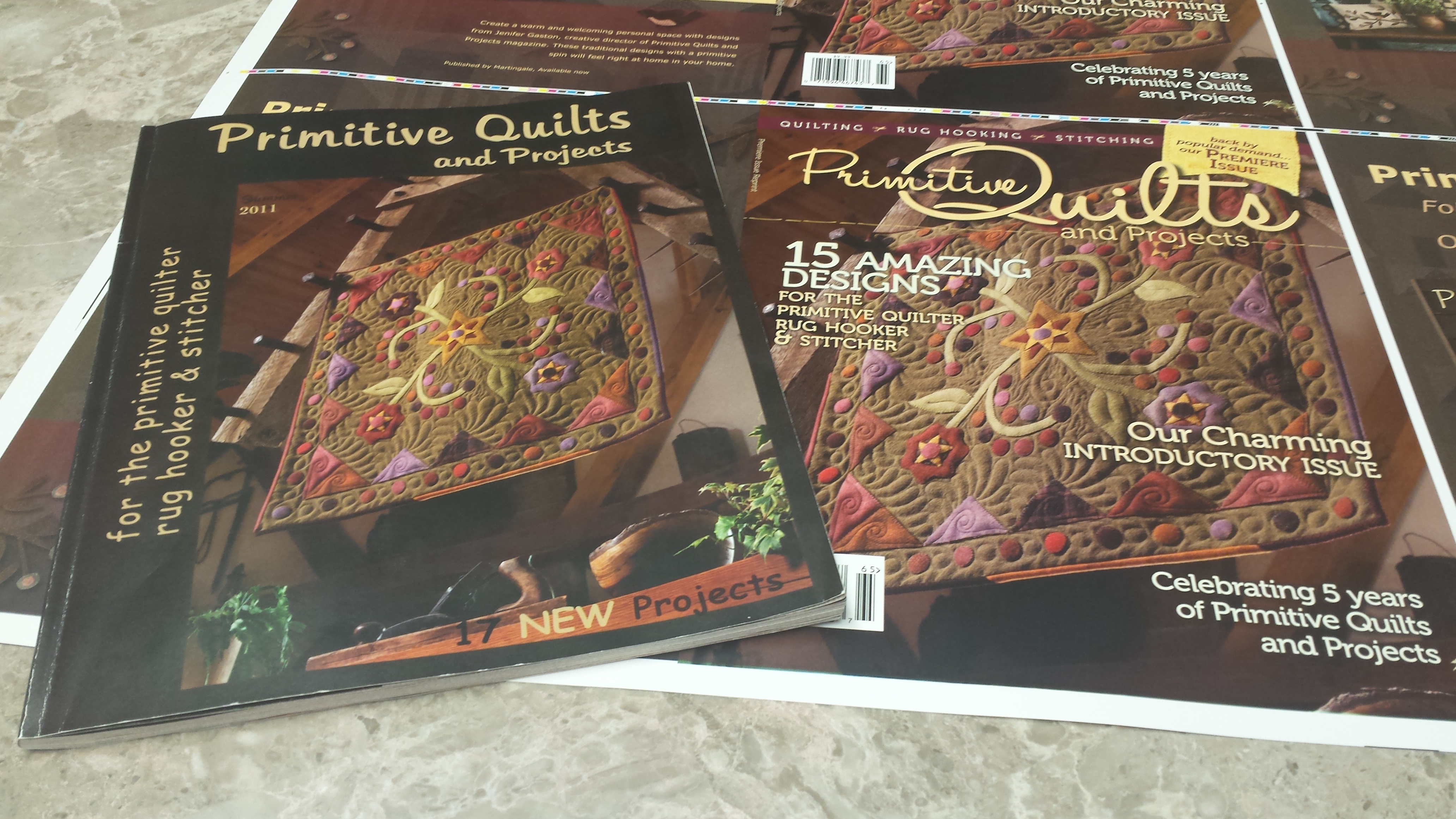 Hello, blog-land! I am back from Mechanicsburg, PA at Fry Communications – press inspection for the reprint of our debut issue, Summer 2011. As I sat and waited for the pressmen to call me back for another round of 16 pages, just looking at the covers (original vs. new) brought countless memories back to the forefront of my mind. All day, I reflected on everything I've learned and experienced over the years publishing Primitive Quilts and Projects Magazine.
If you don't know already, I'm the sister that handles our circulation and advertising. I get the magazine printed and distributed. From Day 1, I've been immersed in Postal regulations & audits (which yes, is about as much fun as it sounds), printing-press terminology, specs & limitations, media kits, ad deadlines, contracts, more contracts, subscriber tracking & distribution, newsstand distribution (more contracts) software & systems integration, digital distribution…ok, I'm throwing myself into a hot flash. Haha Now you know why my left eye starts twitching when someone suggests we publish PQP monthly!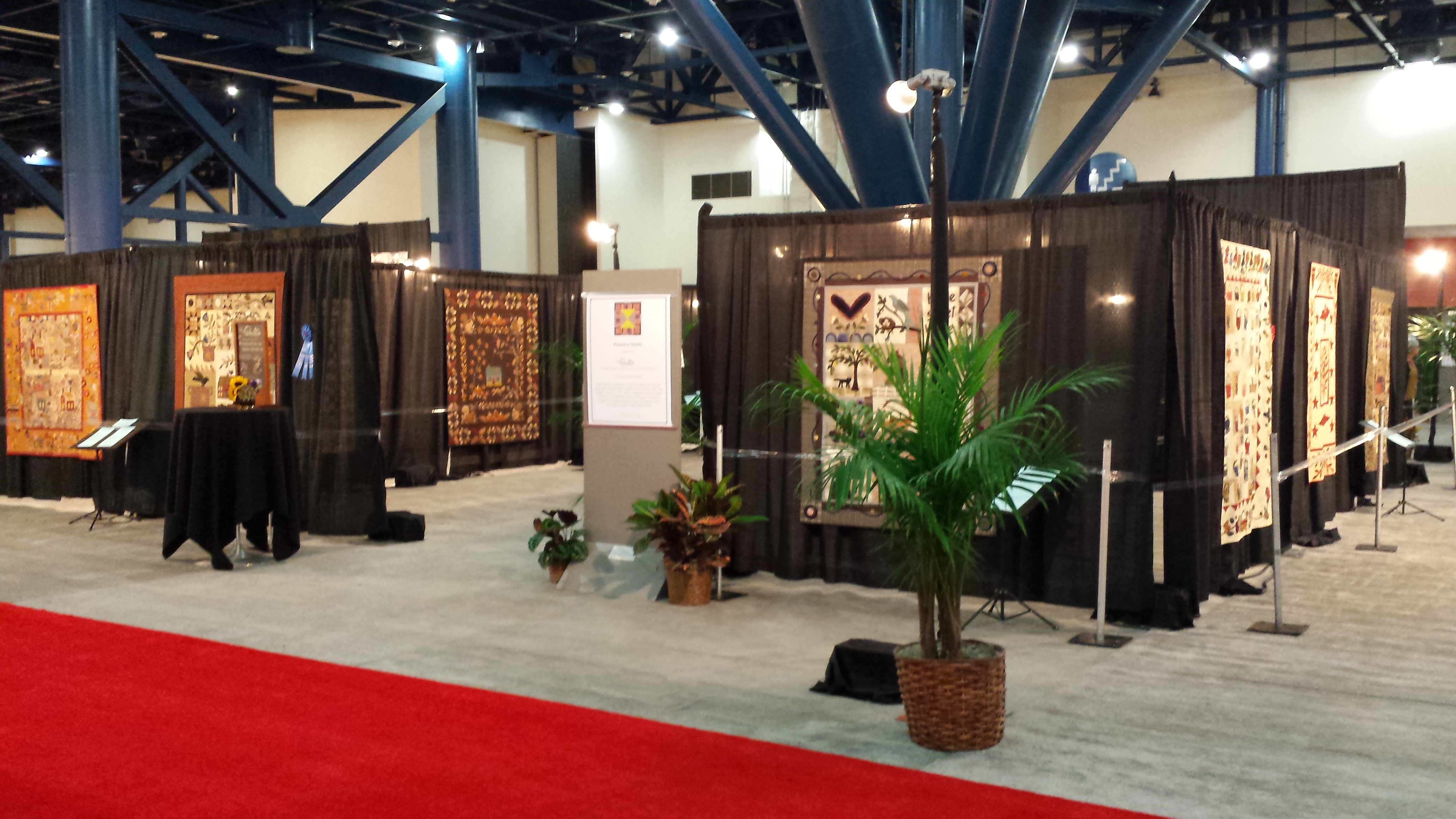 One of the more gratifying, less twitchy experiences I've been fortunate enough to have is pulling together our special exhibit at the 2015 International Quilt Festival in Houston. Planning and implementing all its parts and processes wasn't that horribly complicated…thanks to the numerous professionals at Quilts Inc. and Art Call…and when we walked into that exhibit hall last fall, toward those gorgeous 22 quilts, I can tell you the three of us sisters had water-works-a-plenty! Ours was the first EVER primitive quilt exhibit for Quilts Inc. The talent and artistry exhibited was breathtaking, and it was full of visitors throughout the 11-day Market/Festival extravaganza. We were honored, humbled and so proud of our readers…and so excited to bring the primitive style to the attention of the industry. We had guests in our booth every day telling us how much they LOVED the exhibit.
So, here we are in 2016. Sunday was the deadline for this year's exhibit submissions. Oh boy, do we wish we could hang every one of them! Our judges will sort through 61 entries this next month, and we'll be hanging 22 quilts again…super glad I'm NOT a judge! Haha
We are receiving decisions and contracts from exhibit sponsors, the judges will finish scoring the quilts, and then it will be my job to notify those who have been selected to hang as well as those winning top honors (1st, 2nd and 3rd places in each category). Contracts, spreadsheets, and emails, shipping details, purchasing ribbons, creating signs...whew!!
Throughout all the crazy-busy that goes on, and although we operate in a highly electronic world these days, I want you all to know this project in particular is near and dear to all of our hearts here at PQP. Every story is read, every image is thoughtfully considered, and every stitch is treasured. Everyone involved is excited to see which quilts are selected. And, everyone is extremely proud to show the quilting community the beauty and artistry of this special, beloved niche we call primitive.
Good luck to this year's participants – we are holding our breath with you until June 15!