Posted by Judy and the Fall 2017 Designers of Primitive Quilts and Projects on Sep 8th 2021
We compiled and initially published this chart in the Fall 2017 Designer Notes column. The recommendations are from the designers in that issue. The chart now appears in every issue of our little magazine. We thought it would be helpful to give it a shout out here, and in our long-overdue blog post...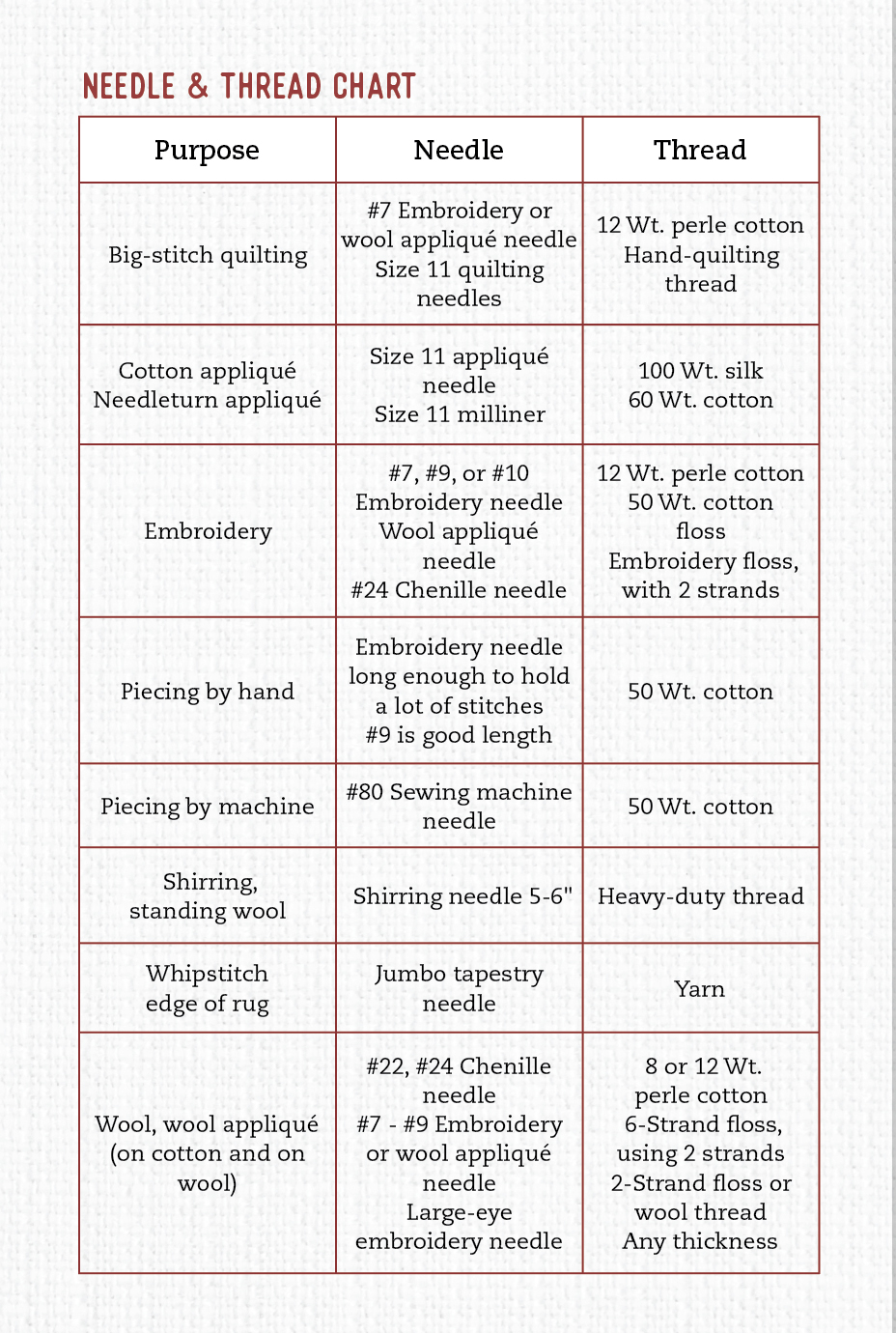 For the different types of stitching you do, what types (and sizes) of needles and threads do you use? And why?
Roseann Kermes
I embroider and do wool appliqué. I mostly use floss because it comes in so many colors. My favorite needle to use for stitching is a #9 embroidery needle because the eye is large enough to accommodate four strands of floss, while the needle itself is thin yet strong and has a sharp point. It's also a little smaller so it makes it easier to control the size of the stitches. I use it for almost everything!

Nola Heidbreder
I use a #22 Chenille needle for wool appliqué. It has a large eye and sharp point. For thread, I use Valdani perle cotton in all sizes, but size 8 is my favorite. I like the 8 because it's easy to thread and pull through wool fabric. Also, I like that you can see the stitches. Sometimes a 12 seems too small and disappears into the wool. I use a shirring needle (about 5-6" long) for shirring and standing wool circles. Heavy duty thread is good for those. A Clover Jumbo Tapestry needle is perfect for whip stitching the edge of a hooked rug. I also use that to do large chain stitching with my rug hooking. Love my own "Chunky Monkey" yarn for whip stitching, herringbone edge, and chaining. It's a 4-ply wool yarn that I can dye any color.

Dawn Heese
For my wool appliqué, I use either two strands of Valdani floss or wool thread with a size 24 Chenille needle and I make a small appliqué stitch, rather than a buttonhole stitch. My designs tend to be busy and I don't want your eye to be distracted by the buttonhole work. Using a small appliqué stitch makes the stitching less noticeable and you look at my appliqué design instead of the thread work. I also find this method to be faster and require less thread. The Chenille size 24 has a sharp point and an eye that will accommodate whichever thread I choose.
For my cotton appliqué, I use YLI 100 wt. silk thread in #235. This thread is fine and does not add bulk to your seam allowance. It makes it easy to hide your stitches and the color is neutral allowing me to use this one shade for all my stitching. My go-to needle is a Hemming size 11 Milliner. It is very fine and the extra length helps to turn under fabric and smooth points.

Robin Vizzone
My very favorite needle is used for both my wool appliqué and embroidery work. Sometimes I even big-stitch quilt with it! It's a size 7 "Embroidery/Wool needle" by Jeana Kimball's Foxglove Cottage. I like this needle because of its longer length. It easily sews through multiple layers of wool, yet is fine enough for creating embroidery stitches. Also, the eye is large enough to accommodate my thread of choice – size 12 Valdani perle cotton. I use Valdani in all my designs because it's hand dyed and blends beautifully with the wools. Valdani is also made to be colorfast. This is important to me because I over-dye and stain much of my finished stitch work to give it Primitive appeal. Having stitches that won't "bleed color" when wet is most important! Did I mention that I'm in love with all their colors? Valdani has a rainbow of color choices to choose from – who couldn't love that?
Lolita "Lola" Newman
I use John James embroidery needles, size 9 or 10. I love John James because they feel good in hand and they do not bend as easily as others do. I will also use John James embroidery needle, size 1 for a primitive big stitch for hand quilting.
I LOVE Cosmo threads. I do an immense amount of hand embroidery and I don't need any type of thread conditioner with Cosmo. It sews like butter. But when I run out, I will use DMC as my backup. I can always get it at my local store when I am waiting on my Cosmo order.

Cathleen Wiggs
Because I use cotton fabric for most of my work, I will use cotton thread for just about everything with a micro-tech or sharp needle. But for thread painting or fancy quilting, occasionally metallic threads are tempting; and here is the best tip I have found when it comes to metallic threads. Even with the huge improvement in quality in the past few years, I found that I get better results and less breakage if I use two threads through the same needle. I use a metallic thread and a fine cotton or silk thread (weight 40 or 50) and a 14/90 needle. Give it a try!

Michele Galloway
When working with wool, I use a number 24 Chenille needle to do all my hand stitching. It slides very easily through multiple layers of wool and fits well in my hand, making for smooth stitching!
I have used a variety of flosses and threads, and kept coming back to the DMC 6-strand embroidery floss, which I now use exclusively. I use 2 strands (sometimes 1 for smaller areas) and love the variety of colors and shades. It gives my designs the finish I am looking for.

Jen Daly
I love stitching! For embroidery, I use standard embroidery needles, matching the size of the needle to the thread I'm using. Most often, I use stranded embroidery floss for embroidery, although occasionally I will use perle cotton. For wool appliqué, I use the same embroidery needles and choose my thread based on the look I'm going for. Typically, I use one strand of embroidery floss that matches the wool I'm working with, and I appliqué it using a whipstitch. If I want the thread to show more or I'd like a less casual look, I'll use perle cotton in size 8 or 12 and a blanket stitch.
When I hand appliqué quilting cottons, I like to use John James size 11 "Gold'n Glide Appliqué" needles. They are ultra thin, but once you've got them threaded, they're great to work with. Finally, for hand quilting, my absolute favorites are John James size 11 quilting needles and YLI's hand quilting thread. When possible, I also love to use the YLI hand quilting thread to sew down binding because it's strong, it resists tangling, and it glides right through fabric.

Julie Hendricksen
I use Aurifil 50 wt. for all my piecing. It is a strong and very fine thread that doesn't break and allows for a flatter seam. It also produces very little lint. I use Schmetz #80 needles. I try and replace my needle after every couple of projects.

Kay Harmon
My favorite threads come from Valdani. I use the size 12 perle cotton for all my wool appliqué and most of my embroidery. I like Valdani threads for several reasons: the variegation gives an additional dimension and interest to the project, threads are colorfast, they are available in a rainbow of colors, and there's no need to separate the thread when using the 12 weight. I usually use a size 24 chenille needle when stitching wool appliqué; however, I'm not a "needle snob". I'll use whatever needle is available to get the project done. When I'm stitching detailed embroidery, I prefer to use the Valdani embroidery floss with 2 threads. I'm able to stitch more detail with the floss than with the perle cotton.

Jill Shaulis
I love Tulip needles. I use the chenille #24 when doing wool—it holds up well and seems to be a little sharper than other chenille needless. I use the embroidery #9 for all other hand sewing (English Paper Piecing and binding, for example). It glides easily through fabric, is very sharp, doesn't bend, and has an eye size I can thread easily. When working with wool I like Valdani thread (usually size 12). Valdani offers so many colors and they are colorfast! For all other sewing, it's Aurifil 50 weight; it's strong, fine, and doesn't fray.

Jeni Gaston
I seem to have a lot of packs of needles of all sizes and types! This is probably because I owned a quilt shop for several years, and I have been sewing and stitching for so long! I like to use a size 11 milliner for my needle-turn appliqué, and a chenille #22 for wool on wool appliqué. If I am appliquéing wool onto cotton, I like a large-eye embroidery needle, because I can use just about any thickness of thread, and it is skinny enough to go through the cotton easily. As for thread, I don't follow any steadfast rule. I tend to choose it on whim, depending on the project, what I have available, and the look I am after.