Quilts come in all shapes and sizes. As far as quilts are concerned, there is no "right" size.
If you've followed us for any length of time, you know that I still consider myself a novice quilter. Jeni, Gretchen, and Mom are the experts in our family. So far, the only bed-sized quilts I've made are for two full-sized beds. We recently replaced one of those full-sized beds with a queen, and now my lovely homemade quilt looks pretty skimpy. I started to make a new quilt for that bed using a pattern for a throw, intending to add extra borders that would create a queen-sized version. The pattern I chose was Deb Eggers' Floral Abundance from our Spring 2013 issue. Turns out, it was such a pretty design, that I didn't have it in me to change it, and ended up making it according to Deb's pattern. Now I have a gorgeous throw to keep me warm while stitching and watching television.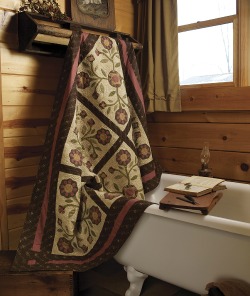 To the point of this post, I looked around for bed, quilt and batting sizes, and noticed a lot of variety. I find this helpful, whether planning to make a quilt, or even for rearranging bedroom furniture.
Here is what I compiled:
Bed

Mattress Sizes

Approximate Quilt Sizes

Batting Sizes

Crib

27" x 52"

Same size as mattress

45" x 60"

Twin

39" x 75"

Widths 59" to 72"

Lengths 85" to 90"

72" x 90"

72" x 96"

Full

54" x 75"

Widths 72" to 80"

Lengths 85" to 90"

81" x 96"

Queen

60" x 80"

Widths 80" to 86"

Length 90" to 98"

90" x 108"

96" x 108"

King

76" x 80"

Width 96" to 110"

Length 90" to 108"

120" x 120"

California King

72" x 84"

Width 92" to 106"

Length 94" to 112"

120" x 120"
I hope you find this helpful. Feel free to share your thoughts with me.
Judy (info@primitivequiltsandprojects.com)
Here is my finished Floral Abundance. I love it!